Welcome, Beautiful Soul!
I am Aleksandra, Oleńko in Polish, and I am a Holistic Health Coach. I have been working for almost 15 years with hundreds of people on transferring their relationship with food. The process begins when we choose to create a loving relationship with our body and align our mind to choose the healthiest food choices. On this journey we find the path to wellness, great health, spirituality and inner peace.
This is my story about how I discovered my love for my plant based diet based on raw foods. I grew up in Lublin, Poland, where my passion for healthy cooking started when I used to visit my grandparents' farm in the country. My childhood memories include: spending time in nature, painting, drawing, dancing, gardening, playing with flowers and animals, and cooking fresh, organic foods I have always had a deep connection with nature, and I loved to spend hours playing in the garden, climbing trees, or having fun with my grandparents' cats and horses. Looking back I feel so lucky that I was able to experience the radiant peace, harmony, gratitude, love, light, and the grace of our Mother Gaia – ( the collective consciousness of Mother Earth for all Beings). Being connected to nature made me very grounded and taught me how to celebrate the world's spiritual traditions, find beauty in simple every day moments, and explore universal love. I found out much later I was on my own path to awakening and realizing the Spirit as Source.
In 1998 I moved to New York and began my college education studying various art forms such as: painting, drawing, stained glass, photography, video art, graphic design, and others. I received my A.A.S. from SUNY Westchester Community College, B.F.A. from SUNY Purchase, and  M.F.A. in Art Education from Manhattanville College. I am also a Health Coach, Intuitive Chef, multimedia artist, and an art teacher – http://www.aleksandrawinters.com/ . I received a Plant-Based nutrition Certification from Dr. T. Campbell at Cornell University. I am also certified Integrative Nutrition Health  and lifestyle Coach by Institute for Integrative Nutrition. I love teaching and learning new things, especially about art, raw food and green living. I am most inspired by nature, colorful fruits and vegetables, flowers, and animals. I have two cats, Sushi and Kizia Mizia, and they are my amazing soulmates. I love art and traveling with my husband Bill –  http://billwinters.net/ . I am very inspired by simple every day life. I always learn something interesting from my travels, students, my family and friends. I also enjoy gardening, yoga, dancing, biking, hiking and just being in nature. Nature is my love and my inspiration for my art, life, and cooking.
I have always loved eating fruits and veggies, even as a child. Being a very sensitive person, I stopped eating meat more than 25 years ago because I saw first hand at my grandparents' farm where the food came from, so I was a pescetarian and then vegetarian, for many years. In January of 2012, I began a high raw diet due to my severe environmental allergies, and as of January 2013 I am a vegan. I feel great eating a healthy, organic, unprocessed plant based diet. In my food I only use organic, simple and fresh ingredients to prepare my meals. I love cooking, and I am always in my kitchen ~ Olenko's Kitchen. Being an artist, a Health and Wellness Coach specialized in plant based life style and essential oils, I love to play with my food. I create Food Art; that is my way to express my love for art, nature and passion for cooking.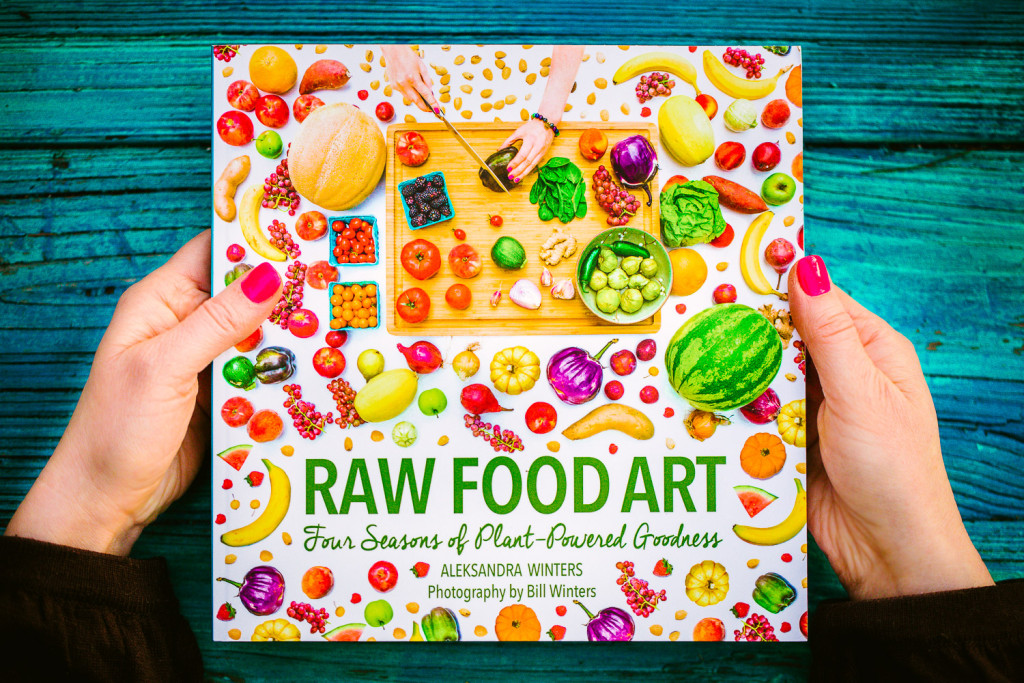 My first cookbook, Raw Food Art, is now available at Amazon http://amzn.com/0997105917 and Barnes and Noble http://goo.gl/MFGsWZ  My intention is to inspire others not to just eat healthy, exercise, live stress free lives, but also spend more time in nature. Many of us live very busy lives, rushing, going, and always doing something. My tip for All is to stop and smell the roses. Nature is always there for you. Nature is very grounding and healing, and it can teach us amazing things about our past, present, and future. My goal with my first book in print is to offer inspiration to others as a way to educate others about how we can help Planet Earth, the environment, animals, ourselves and overall, humanity.
My dream is to one day have a huge garden and a farm, and grow my own food like my grandparents did in Poland. But for now I have an indoor herb garden in the summertime. I grow fruits, veggies, and herbs in my little garden on my patio. I also support local farmers and buy fresh food at the farmers' markets. Five years ago I signed up with http://www.mikesorganicdelivery.com/ , and every week I get a delivery from this organic farm with whatever is freshest and tastiest right to my door. This great service provides me with just picked taste and freshness, allowing me to eat what is in season. I also like to know where my food comes from. For me, healthy eating is very simple: just eat many fresh greens, vegetables, fruits, nuts, superfoods, fresh herbs, and some healthy oils. Try this for a week, and you will see how great you are going to feel. Cooking is so much fun. When I cook, I develop my own recipes, and usually I don't measure anything, unless I am creating recipes for you, guys. I just love to experiment with interesting flavors; use pure, organic produce; sometimes I even add a few drops of Young Living essential oils  https://www.youngliving.org/billwinters
I hope this website will inspire you to get into healthy cooking and embrace your inner chef. Adding even a few plant-based meals a week to your diet is a great place to start. The more greens, fruits and vegetables you will eat, the better you are going to feel.
Live Love Light and Fruits from Olenko's Kitchen
*Remember to check with your medical doctor and health professional before making any big changes to your diet.