Woman Every Day Interview with Aleksandra Winters from Olenko's Kitchen.
Wanna learn about her Rainbow Diet and Life? Click to read the blog:
https://www.thewomaneveryday.com/blogs/blog/the-rainbow-diet-and-compassionate-fashion-with-aleksandra-winters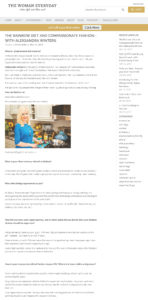 Here are my articles and recipes about my trips to Morocco and Jamaica at Destinations Magazine.
//www.destinationsmagazine.com/raw-vegan-inspiration/
—————————————————————————————————–
I am so excited to have my two recipes published in Healthy Intent digital magazine. Grab your free copy at http://healthy-intent.com/newsletter/
—————————————————————————————————–
Olenko's Kitchen and Lipstick and Berries Published in Inspired Health Magazine
I am so excited to have two of my raw vegan recipes published in 2014 May Issue of Inspired Health Magazine. Thank you so much Christina Leidenheimer Editor-inChief of Inspire Health & Healthy Works for publishing my raw vegan recipes. Your magazine is truly so inspiring! http://inspirehealthmag.com
So proud of my beautiful friend Ashley Cox who has two of her recipes publish too. You can find more of her vegan recipes and beauty tips on her blog http://lipstickandberries.wordpress.com
—————————————————————————————————–
Olenko's Dates Stuffed With Orange Almonds
This yummy dessert is inspired by my trip to Jordan and was published in Destinations Magazine The Travel Love Of  Fare on pages 46-47.
2 cups of freshly squeezed orange juice
1 cup of organic raw almonds
13 organic Medjool dates
pinch of cardamon powder
pinch of cinnamon powder
Place a inch of cardamon and cinnamon into a bowl of freshly squeezed orange juice. soak the almond in the mixture for 4-6 hours in the fridge. This will activate the enzymes in the almonds and they will be infused withe amazing orange, cardamon, cinnamon flavors.
Drain the almonds and place in the dehydrator for 12 hours on 110 F or until completely dry and crunchy. Then slit the dates open and remove the pits. Fill each date with 2 or 3 almonds. They will keep for a week or two in a airtight container and they make a great snack, appetizer or raw dessert. Enjoy : )
—————————————————————————————————–
The Little Town Shoes Blog did interview with me about my vegan life style and my raw vegan cooking. Check it out : ) www.littletownshoes.com
—————————————————————————————————–
Olenko's Arizona Raw Tacos Stuffed with Raw Zucchini Salad
So excited that my Arizona Raw Vegan Tacos are on the cover of new Destinations Magazine- Destination's Cuisine Culture Edition- The Travel Love Of Fare. This was a collaboration with my talented husband Bill Winters cinematographer/photographer who took this amazing photos. Thank you so much Destinations Magazine, we are so honored to be featured in this beautiful magazine. For more info please visit Destination's Magazine Facebook page.
Raw Taco
5 leaves of organic Boston lettuce
1 large organic avocado
8 organic baby tomatoes
1 ear of organic raw corn
1 red organic pepper
1 yellow organic pepper
½ organic lemon
organic fresh herbs to garnish
Raw Zucchini Salad
2 cups of cubed organic baby zucchini
1 cup raw organic sunflower seeds
1 teaspoon of organic chopped parsley
fresh juice squeezed from 11/2 organic lemons
1 pinch of Chipolte pepper
1 pinch or Pink Himalayan Salt
2 tablespoon of pure water
Add all the ingredients for the raw zucchini salad into the Vitamix or food processor and blend on the pulse setting. Use an ice-cream scoop to place the zucchini salad on the lettuce leaf. Slice the vegetables and avocado and place them on a serving tray with tacos. Sprinkle some cayenne pepper and lemon juice on the tacos. Decorate with fresh herbs and serve immediately.