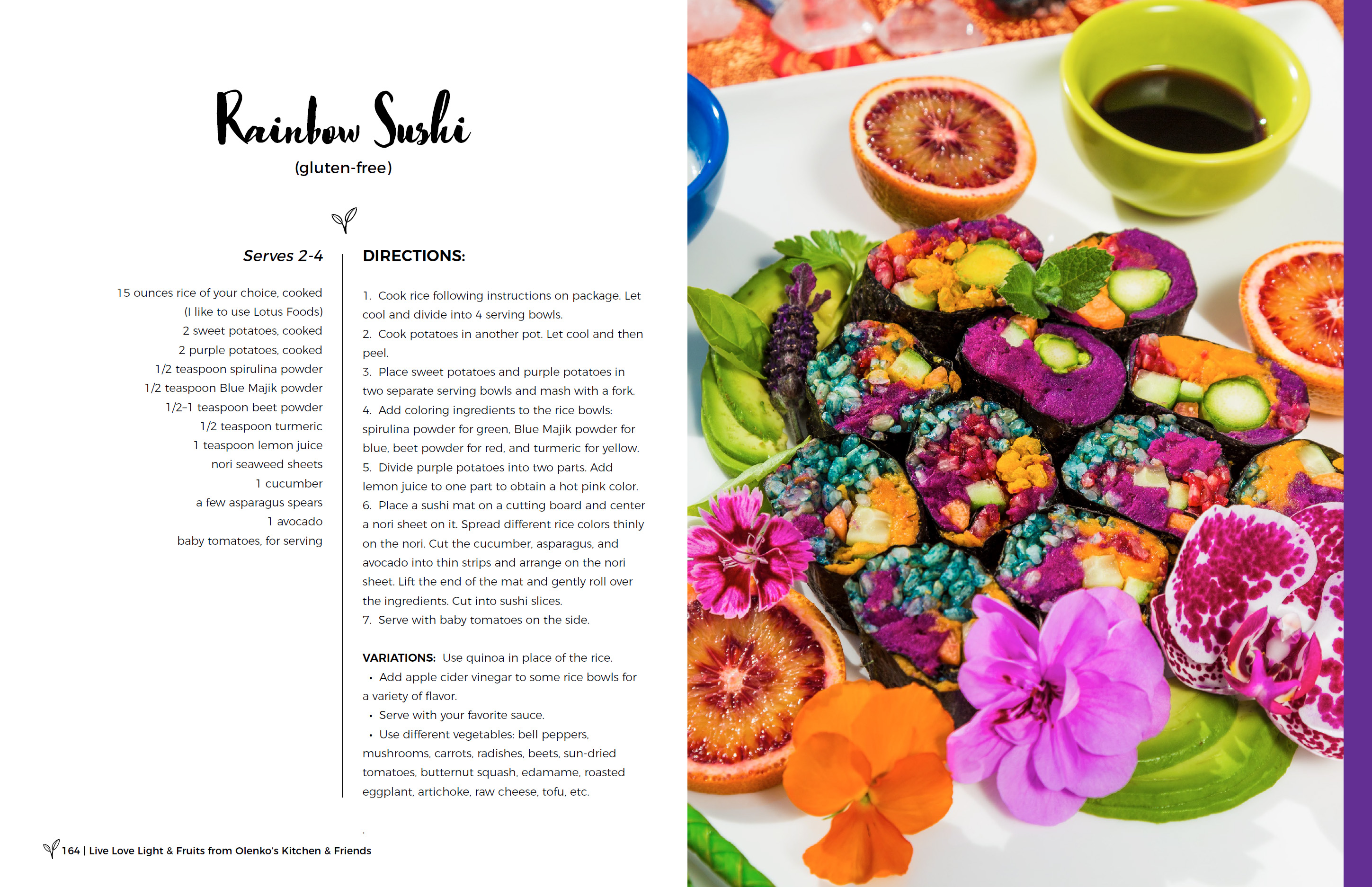 Rainbow Sushi
(gluten free)
Serves 2-4
15 ounces rice of your choice, cooked
(I like to use Lotus Foods)
2 sweet potatoes, cooked
2 purple potatoes, cooked
1/2 teaspoon spirulina powder
1/2 teaspoon Blue Majik powder
1/2–1 teaspoon beet powder
1/2 teaspoon turmeric
1 teaspoon lemon juice
nori seaweed sheets
1 cucumber
a few asparagus spears
1 avocado
baby tomatoes, for serving
DIRECTIONS:
1. Cook rice following instructions on package. Let
cool and divide into 4 serving bowls.
2. Cook potatoes in another pot. Let cool and then
peel.
3. Place sweet potatoes and purple potatoes in
two separate serving bowls and mash with a fork.
4. Add coloring ingredients to the rice bowls:
spirulina powder for green, Blue Majik powder for
blue, beet powder for red, and turmeric for yellow.
5. Divide purple potatoes into two parts. Add
lemon juice to one part to obtain a hot pink color.
6. Place a sushi mat on a cutting board and center
a nori sheet on it. Spread different rice colors thinly
on the nori. Cut the cucumber, asparagus, and
avocado into thin strips and arrange on the nori
sheet. Lift the end of the mat and gently roll over
the ingredients. Cut into sushi slices.
7. Serve with baby tomatoes on the side.
VARIATIONS: Use quinoa in place of the rice.
• Add apple cider vinegar to some rice bowls for
a variety of flavor.
• Serve with your favorite sauce.
• Use different vegetables: bell peppers,
mushrooms, carrots, radishes, beets, sun-dried
tomatoes, butternut squash, edamame, roasted
eggplant, artichoke, raw cheese, tofu, etc.