Olenko's Kitchen Hot and Cold Steel Cut Oats are perfect for breakfast, lunch or dinner. The possibilities are endless.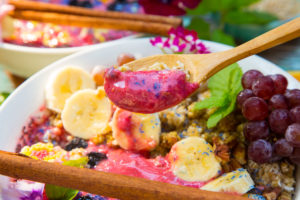 Ingredients for Oats
1 cup organic steel-cut oats
1/2 cup raisins
2-3 cups water
pinch of pink Himalayan salt
1/2 teaspoon ground cinnamon
Toppings (such as fresh fruits, superfoods-dry nuts and seeds, edible flowers, raw cacao nibs, or your favorite nut butters)
1. Combine oats, water, and cinnamon in a medium saucepan. Bring to a boil, then reduce heat to low.

2. Simmer uncovered for 15 minutes until desired thickness, stirring occasionally. Remove from heat, add reasons and salt. Let it cool slightly.
3. Divide equally between bowls. Pour smoothie on the top and add additional desired toppings. Serve and enjoy.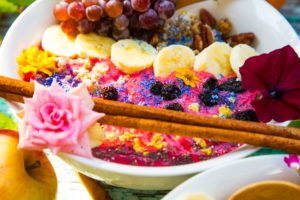 Ingredients for Smoothie:
2-4 ripe frozen bananas
2 cups frozen fruits, such as organic wild blueberries, cherries or raspberries
2-5 Medjool dates
1-2 cups of water or coconut milk
Blend everything in the high speed blender and serve over your oats.