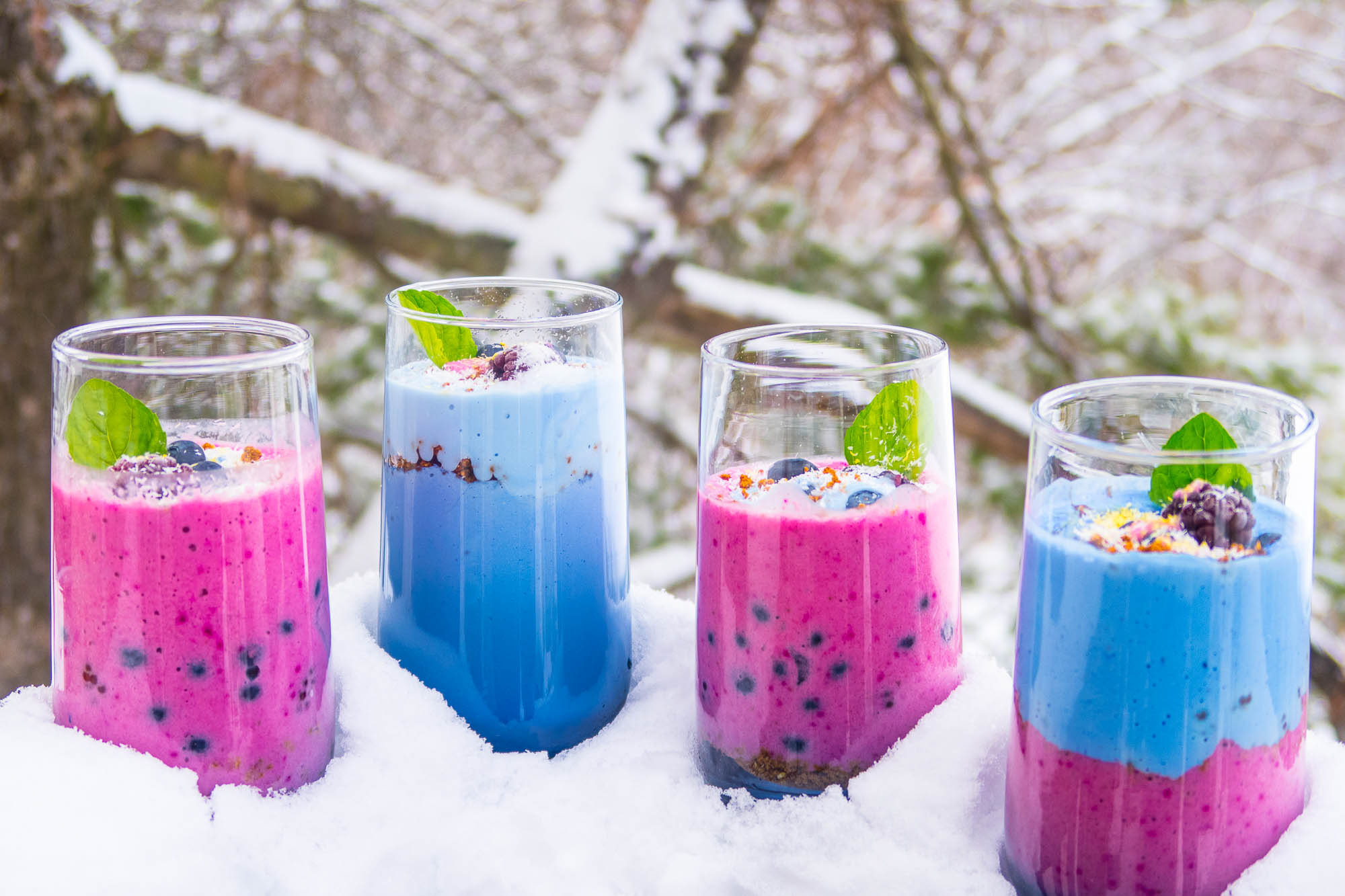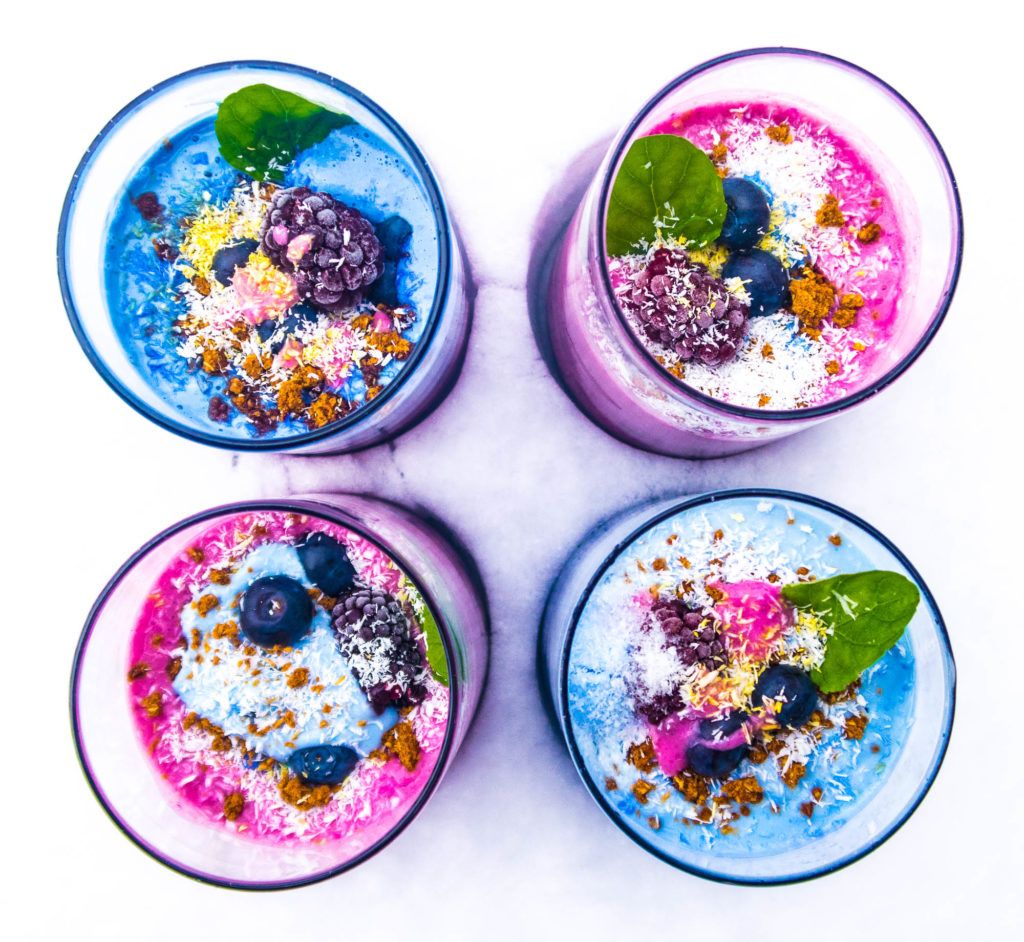 Winterland ❄️❄️❄️❄️So gorgeous ❄️❄️❄️Good morning ❄️🌧❄️🌧❄️🌧❄️🌨on this beautiful snow day with Olenko's Chilled Winter Parfaits ❄️❄️❄️Yummy ❤️❄️❤️yummy ❤️Life is Love! Enjoy ❄️❄️❄️❤️😀The natural beautiful colors are created with amazing raw powders from www.rawnice.com ❤️😀❤️Eat the rainbow everyday 🌈🌈🌈🌈
To make yummy rainbow parfaits you need very ripe bananas and frozen or fresh berries. Possibilities are endless.
Ingredients:
6-8 ripe bananas ( fresh or frozen)
1 cup fresh blueberries
1-2 cups coconut milk or coconut water or water
pink pitaya powder
blue spirulina powder
shredded coconut
other fruits, fresh herbs to decorate on the top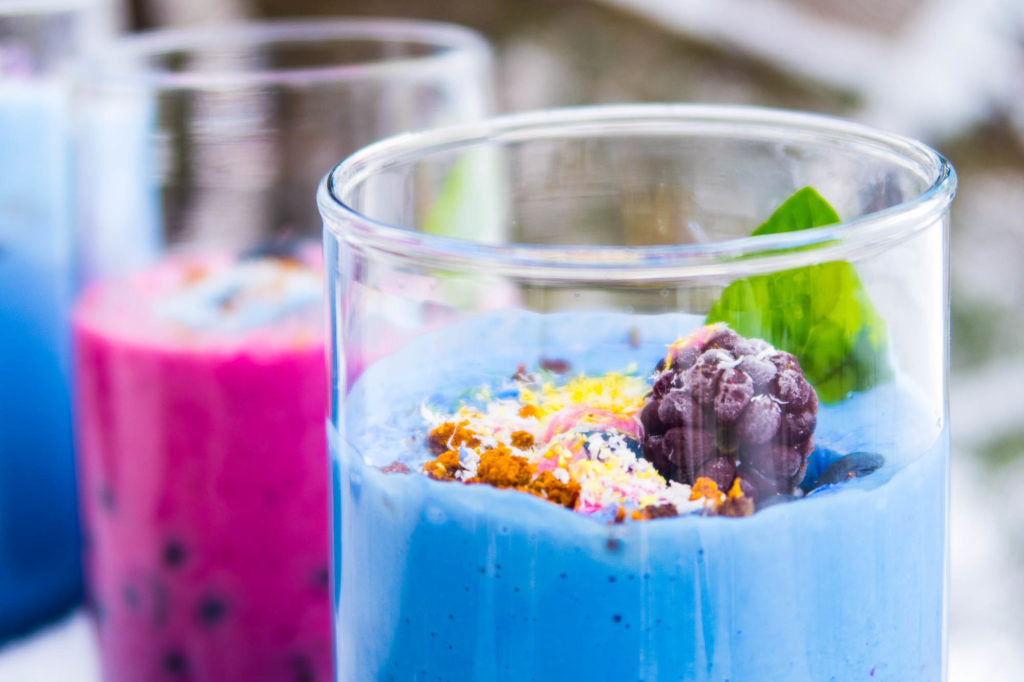 Divide bananas in half. Pill them and add the liquid of your choice. You need to mix the colors separately in your high speed blender. Start with pink pitaya- mix well, pour it in the glasses half way. Then rinse of the mixing container and mix the blue color using the blue spirulina powder. Pure it on the top of pink color or however you like it. Add blueberries, or other fruits, nuts, and shredded coconut. Enjoy.
The Dragon Fruit cactus is native to south america, and it might be the coolest fruit in the jungle due to its unique look and intense color.
Pink pitaya powder is made from the flesh of this red dragon fruit, and with it you can create foods so pink that your barbie dolls will be jealous.
Pitaya powder is a good source of:
Magnesium (55% RDI)
Zinc (24% RDI)
Potassium (47% RDI)
Fiber (7,4g per 100g)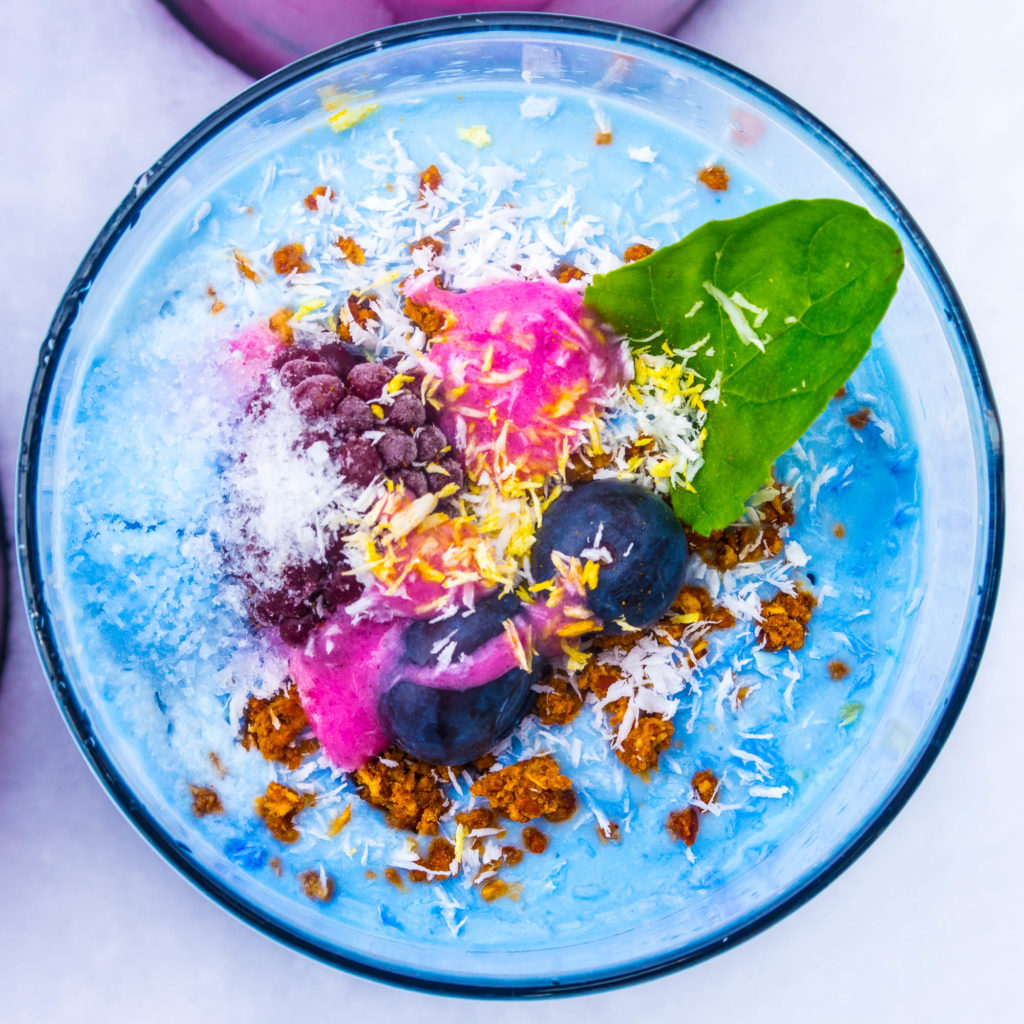 Blue Spirulina Powder
Packed with antioxidants
100% natural
No fishy taste
Vegan friendly
Gluten free
HOW TO USE BLUE SPIRULINA:
This magic blue powder is extracted from regular green spirulina through a process where we've kept the healthy stuff but gotten rid of the nasty taste and boring color.
Add a tsp of our blue spirulina to your banana smoothie and go from lame to an amazing in a sec. Sip on a smurf latte or go crazy with blue noodles.