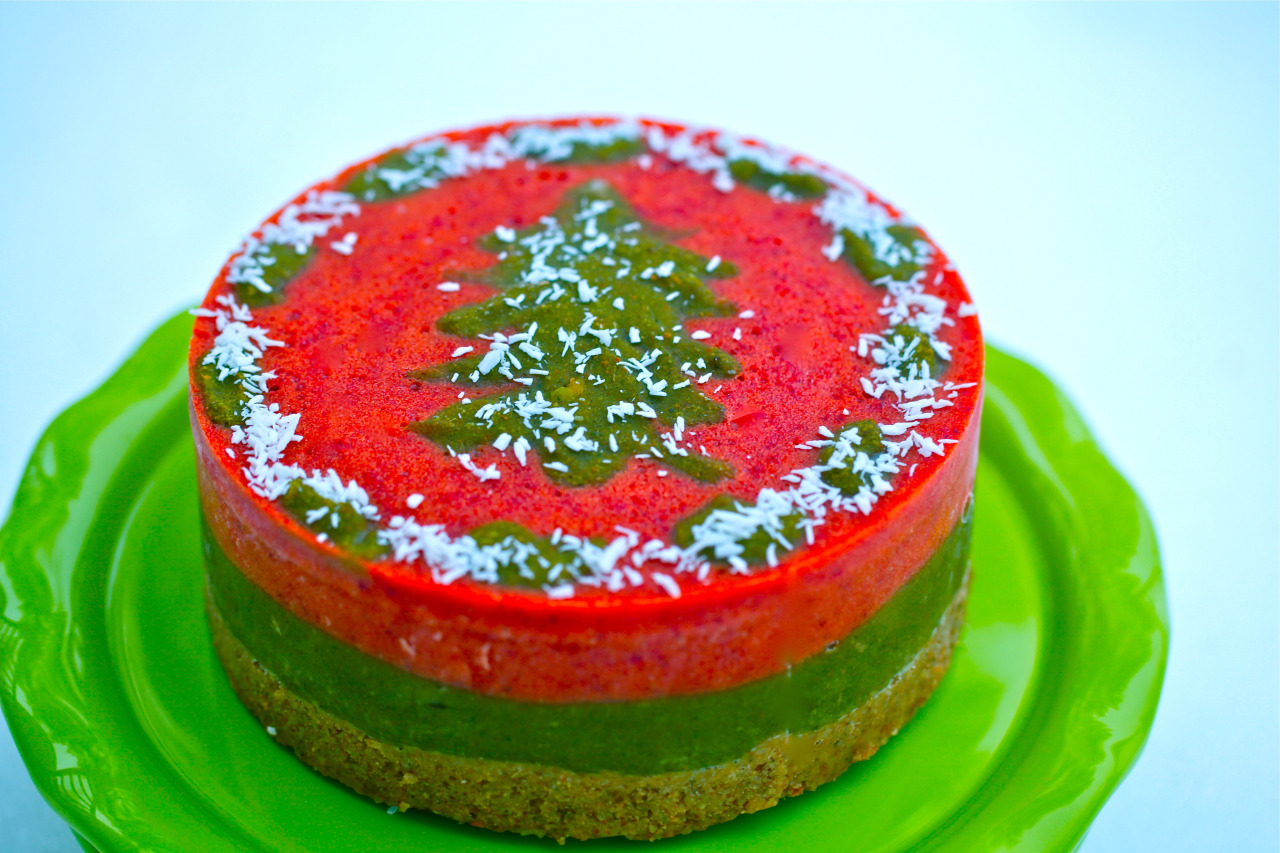 Base:
1 cup raw organic almonds ( or other nuts like walnuts or pecans )
7 organic Medjool dates
½ TBS cinnamon powder
1 cup raw organic pumpkin seeds
1 1/2 TBS organic ginger powder
1 TBS pumpkin spice
1 1/2 TBS pure water
Pulse everything in the food processor until becomes crumbs like and sticks together. Press into the bottom of a spring form pan. Set aside and make the filling.
Green Color:
5 leaves of organic kale
1 ripe banana
2 organic kiwis
1 TBS organic Moringa powder
1 TBS organic lucuma powder
2 TBS fresh lemon juice
2 dates
1 cup pure water
Blend all ingredients in the Vitamix or high speed blender until thick and smooth. Spread evenly into your spring form pan on the top of the crust. Put in the freezer to set for about ½ hour. Leave a little bit of green color for the x-mass tree.
Red Color:
1 cup organic fresh cranberries
2 ripe bananas
3 TBS goji berries
1 cup pure water
Blend all ingredients in the Vitamix or high speed blender until thick and smooth. Pour it over the green color. Use the leftover green color to make a x-mass tree. Put in the freezer for about 5 hours or overnight. Serve with coconut shreds, fresh cranberries and raspberries on the side. Santa liked this cake, lol. I think you will enjoy it too : )
P.S. Santa I did made you vegan cookies too, search for Olenko's Raw-Vegan-Fat Free Oatmeal Christmas Cookies