SAVE THE TUNA SALAD
This salad is perfect as a holiday side dish or served on a sandwich.
(gluten-free)
Serves 4–6
3 cups cooked chickpeas
1 cup pecans, chopped
1/2 cup celery, chopped
2 1/2 tablespoons purple onion, chopped
2 tablespoons mustard
2 tablespoons apple cider vinegar
1 teaspoon or more of chopped fresh herbs: basil,
parsley, dill, etc.
1 teaspoon Celtic salt or pink Himalayan salt
1/4 teaspoon black pepper
pinch of cayenne pepper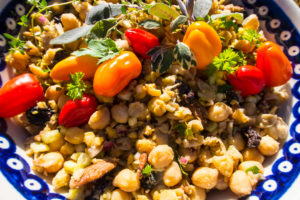 DIRECTIONS: Place all ingredients in a big bowl
and gently mix together.

VARIATIONS: Add avocado or tahini if you prefer a
creamier taste. You can also add dry cranberries or cherries to the salad for a holiday twist. Enjoy!
• Serve with Olenko's Mom's Bread http://www.olenkoskitchen.com/olenkos-moms-bread/, rolls, or as a wrap.